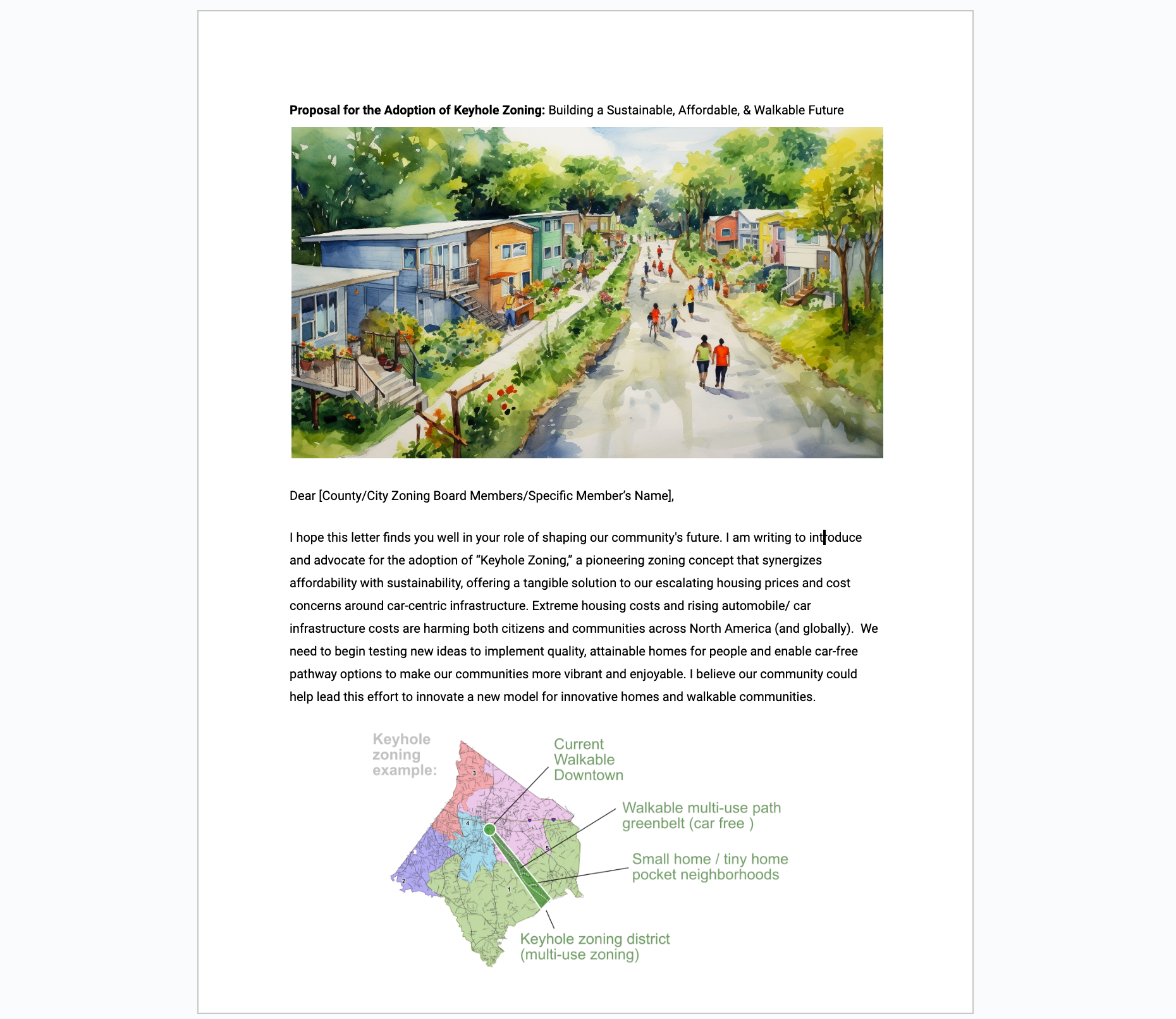 Keyhole Zoning Letter Template .DOC File (Free)
Use this free word doc (.DOC) template as a foundation to write to your local county commissioners, zoning board, or city council.  Use this template to tell them why legalizing small homes, tiny homes, multi-use zoning, and a car-free multi-use pathway are critical for quality of living and affordability in your community.
Customize this template!  Share it with others!  There are 3,143 counties in the USA.  If just 1/3 of these counties (just over 1000), implemented these ideas for legalizing smaller homes (200-1000 sq feet), and building a car-free greenbelt pathway to connect the small home neighborhoods, it would transform America for the better.
We need balance.  We don't all want to own a big home in an HOA.  We don't all want to own two cars.  Big, inefficient homes and expensive car-centric urban planning are keeping more and more Americans living paycheck to paycheck working most of their lives.  It does not have to be this way.
Build a group of local support and DEMAND options in your community.  Not everyone wants to go car-free or live in a smaller house, and that's fine.  America should be a land of options.  Right now there are no affordable, quality options for housing and transportation for young people.  The ideas in this "Keyhole Zoning" template letter create the conditions for very affordable, beautiful homes in walkable communities. 
Why would we NOT do this?  Download this free template, customize it with your county/city information, and email or mail it to your community leaders!
Instructions:
1. Download free template
2. Customize the letter for your community / city / county leaders.
3. Sign it and email or mail it to them!
4. Share these ideas with people in your community.
5. Keep emailing or mailing your leaders until a meeting is scheduled!
6. Keep building local support until the project becomes real.
7. Enjoy living affordably in a lovely little home in your walkable community.
8. Have more time and money to do what you love.  Escape the rat race.
9. Help other people and communities do the same.